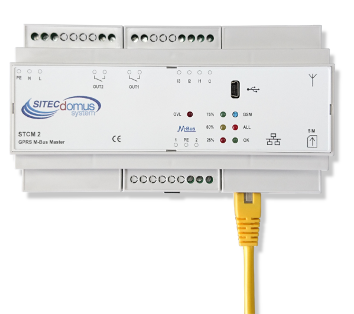 STCM ETH
Remote Reading M-Bus Master for M-Bus Meters
The STCM ETH is an M-Bus network hub, designed to gather data from connected meters and send them, via e-mail, to the user.
Internet connection for the sending of data occurs by using Ethernet connection. The reading values are sent via e-mail, and are available in an attached, ".csv" file – formatted and directly readable in Excel (or an equivalent program). Alternatively, readings can be made locally, using the "STCU Reader" software, provided separately. The device may be remotely configured by internal Web server, or locally using the "STXM Reader" software. The STCM ETH , among other functions, can manage the STCR-IO devices, that are M-Bus slave with an input and an output.
STCR-IO devices can be configured according to your needs through the software "STXM Reader".
Moreover, there are models available with the datalogger for saving the readings.