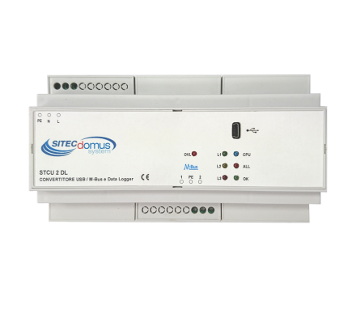 STCU DL2
Hub 

for reading

M-Bus

devices

with

data logger
The STCU DL 2 is an M-Bus network hub, designed to gather data from connected meters and memorize it.
Logs may be made using the "STCU Reader" user program, provided separately.
The device has to be locally configured using the "STXM Reader" software.
The STCU DL2 has a 1 MB memory dedicated to saving the readings. The duration of the memory depends mainly on the number of devices connected to the M-Bus network, and on the frequency of the readings. With 100 devices connected to the network, after 50 readings the memory will be completely full. At that point the new data will begin to overwrite the less recent data.
The STCU DL2, among other functions, can manage the STCR-IO devices, that are M-Bus slave with an input and an output. STCR-IO devices can be configured according to your needs through the software "STXM Reader".