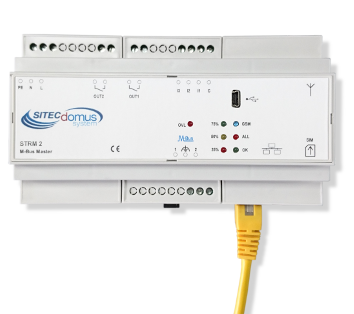 STRM-RM ETH
Hub for remote reading of AMR radio stations
The "STRM-RM ETH" device is a hub for remote reading of antennas AMR type Qundis, Siemeca (Siemens) e Honeywell, that has the purpose of reading the data and send it to the user via E-Mail.
Internet connection for the sending of data occurs by using the Ethernet connection.
The reading values are sent via e-mail, and are available in an attached, ".csv" file – formatted and directly readable in Excel (or an equivalent program).
The device can be configured and controlled remotely through internal Web server, or locally using the "STXM Reader" software.
Moreover, the following devices are available:
– With datalogger for data storage;
– With multi AMR radio station connections to the hub.